The Best Books I Read in 2021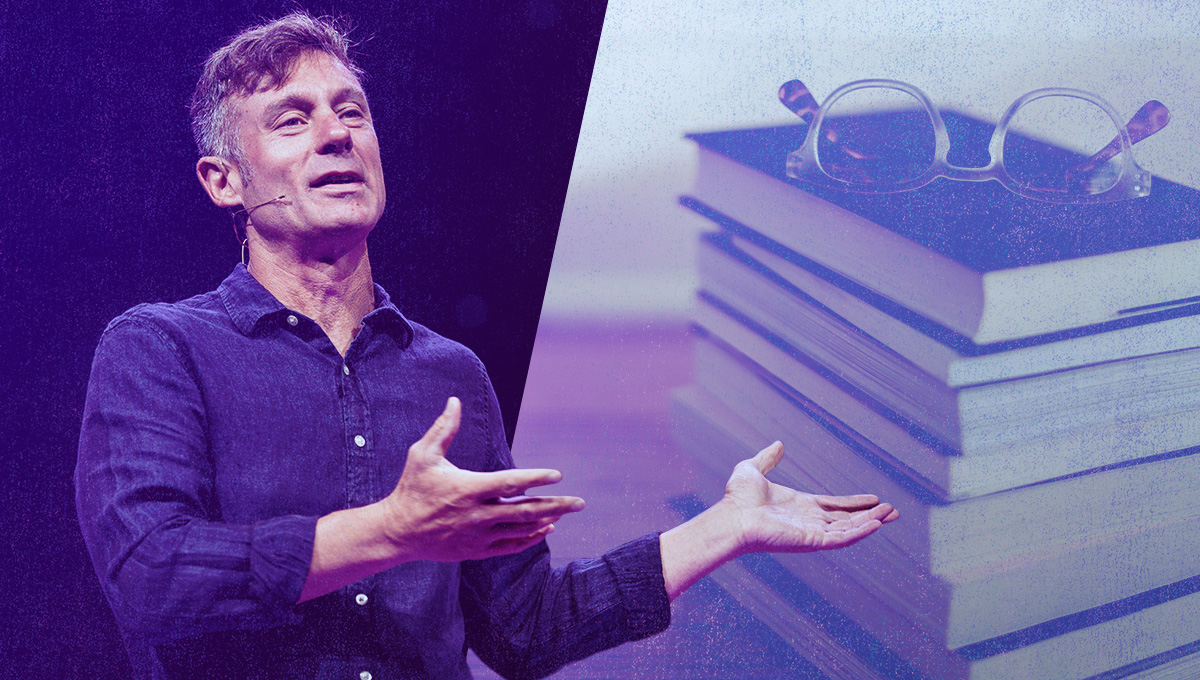 I'm a sucker for a book list. It's hard for me to pass over one without at least skimming it in search for my next read. In the spirit of what goes around comes around, I offer my own list for 2021 knowing I'll be searching others' year end lists. I tried to break these down by categories but of course it's messy. Several books could be listed in more than one category and some categories seem too broad.
My criteria for these selections are pretty simple…
I read the book in 2021.
I thought the book was particularly interesting and/or well written, or I learned something significant.
You'll notice that few are explicitly Christian. If you're looking for books that will help you grow in your faith, you check out our new assessment. Our Book Recommendation Quiz will help you find the right resource for you.
---
Looking for even more recommendations? Here are my book lists from previous years:
The Best Books I Read in 2020
The Best Books I Read in 2019
The Best Books I Read in 2018
The Best Books I Read in 2017
The Best Books I Read in 2016
---
Culture
This category is way too broad. This section contains books about secular spirituality, the human condition, immigration, race, politics, conflict, education, and more.
Strange Rites: New Religions for a Godless World by Tara Isabella Burton
Have you heard of the Nones—the growing number of people who don't claim any religion? Despite their name, only a small percentage of the Nones are atheists or agnostics. Instead, they are SBNR—Spiritual But Not Religious. Modern religion is a "re-mix" of traditional faith and consumer culture. Think less Catholic Mass and more Soul Cycle, wellness, and Wicca. To point your neighbors toward Jesus, it helps to understand what they believe.
The Quick Fix: Why Fad Psychology Can't Fix Our Social Ills by Jesse Singal
I love stories that help me understand and even predict human behavior. But recently, I learned that one of the founding fathers of behavioral economics, Dan Ariely, was credibly accused of lying in his book The Honest Truth About Dishonesty (you can't make this stuff up!). Jesse Singal argues that by craving quick and easy fixes to complex problems, we create a market for solutions based more in salesmanship than hard data. This means that most significant problems can't be solved with a TED talk.
After the Last Border: Two Families and the Story of Refuge in America by Jessica Goudeau
Immigration is one of the most difficult issues our country faces. What should we do to prevent illegal immigration? How many immigrants should be allowed into the United States through legal channels? There are no easy answers. In this book, Goudeau personalizes the issue by introducing you to Mu Naw, a Christian from Myanmar, and Hasna, a Muslim from Syria. You learn about their life in their country of origin, what it takes to enter the United States legally, and the difficulty of transitioning to a new country.
High Conflict: Why We Get Trapped and How We Get Out by Amanda Ripley
Amanda Ripley has written a book that describes where we are (high conflict) and what we need (to get out). She starts with an expert who has built a career helping others escape conflict but then finds himself embroiled in a conflict much of his own making. Next, she introduces us to a Chicago gang leader who switches sides. And then finally, in the most powerful section of the book, we meet a group of liberal New York Jews and conservative Michigan corrections officers who visit each other's communities to gain a better understanding of one another.
Why It's OK to Ignore Politics by Christopher Freiman
I'm sure you've heard people say that it's your responsibility to cast an informed vote in every election. Freiman argues that those who ignore politics and abstain from voting don't need to feel bad. Disengaging from politics actually frees you up to make a bigger impact with your time, concern, and money.
Why It's OK to Speak Your Mind by Hrishikesh Joshi
Sane people are scared to share their opinions because they're afraid they'll be "canceled." But when people stop sharing what they know and believe, we all get dumber. Locally or globally, past or present, we arrive at truth through conversation with others. Therefore, we have obligations both to share our perspective to help shape others' thinking and to allow others' to shape ours. Keeping quiet lets bad ideas win the day.
Locking Up Our Own: Crime and Punishment in Black America by James Forman Jr.
Today, everyone seems to be against mass incarceration and how it especially impacts minorities. So how did we get to this place where so many people are locked up? In his award-winning book, Forman, a former public defender, shows that many African American politicians encouraged the tough measures.
Free to Believe: The Battle Over Religious Liberty in America by Luke Goodrich
Luke Goodrich, an attorney specializing in religious liberty issues, has argued and won several cases before the United States Supreme Court. In this book, he helps people of faith understand how religious liberty is rooted in the Bible and the constitution. But even more importantly, he calls Christians to live out their faith humbly and graciously regardless of the consequences. Listen to my conversation with Luke Goodrich.
Woke, Inc.: Inside Corporate America's Social Justice Scam by Vivek Ramaswamy
Businesses are throwing around their weight trying to affect sociopolitical policies. The days when Michael Jordan said, "Republicans buy sneakers too," have been replaced by MLB moving the All-Star Game in response to decisions made by the Georgia state legislature. Some see this corporate social activism as a good development, but Ramaswamy isn't one of them. He argues that, in exchange for special tax breaks and legal immunity, businesses should stay in their lane—making money for their shareholders.
Listen to our conversation about Woke, Inc on Truth Over Tribe.
What Money Can't Buy: The Moral Limits of Markets by Michael Sandel
Should you be able to purchase a fast pass that allows you to skip the line at an amusement park? Should you be able to purchase the right to sit in a particular seat at church? Should you pay kids to read? Should you pay someone to offer an apology on your behalf? Should you be able to buy another person's vote in an election? More important than your answer to any of these questions is the ability to identify a guiding principle. Sandel makes you wrestle with tough questions as he argues that maybe everything shouldn't be for sale.
The Tyranny of Merit: What's Become of the Common Good? By Michael Sandel
Every society must decide how to distribute wealth, rewards, and opportunity. In aristocracies, what counts is your parentage. Totalitarian governments dole out these resources based on political connections. The United States claims to be a meritocracy which means that what counts is a person's talent, performance, and hard work. AKA: their merits. But like every other system, meritocracies have strengths and weaknesses. This award-winning book lays out both while offering suggestions on how to make life fairer for those on the bottom.
Taking Back America for God: Christian Nationalism in the United States by Andrew Whitehead and Samuel Perry
Since the January 6th riot in Washington D.C., the phrase "Christian Nationalism" has been used far more frequently to describe those who broke into the Capitol while holding crosses and signs reading "Jesus Saves." Who are these Christian Nationalists, and what exactly do they believe? The authors do a fair job explaining both the players and the beliefs without lumping all Christians into the group. In fact, a significant number of Christian Nationalists don't even go to church.
Uncivil Agreement: How Politics Became Our Identity by Lilliana Mason
In the early 1950s, the American Political Science Association issued a report saying that the country needed clearer partisan divides. In their expert opinion, the two major political parties were too similar. In our current moment of intense political polarization, it's hard to believe that just 70 years ago, political scientists thought there wasn't enough polarization. What changed? Mason argues that racial and religious identities have been mapped onto political differences resulting in a toxic, no-compromise environment.
The Prize: Who's in Charge of America's Schools by Dale Russakoff
Mark Zuckerberg gave $100M to transform schools in Newark, N. J. What could possibly go wrong? Mayor Corey Booker, Governor Chris Christie, the teacher's unions, and Zuckerberg couldn't work together well enough to significantly improve the school system. This book demonstrates that when it comes to education, there are things money can't buy.
Tribe: On Homecoming and Belonging by Sebastian Junger
Why do American soldiers suffer from PTSD at higher rates than soldiers from other countries? Why did settlers in colonial America, who were captured by American Indians and then freed, seek to return to their captors? Tribe examines the human need to belong.
Morality: Restoring the Common Good in Divided Times by Jonathan Sacks
The author is my favorite Rabbi because he's written several phenomenal books. In this one, he argues that we cannot allow the market or the state to determine our morality. Instead, we must find a shared morality based on individual choices.


Faith


The Faith of Christopher Hitchens: The Restless Soul of the World's Most Notorious Atheist by Larry Taunton
Christopher Hitchens, author of God Is Not Great: How Religion Poisons Everything, was one of the four horsemen of contemporary atheism. Most people were unaware that while Hitchens was publicly attacking Christianity, he had private friendships with several Christians, including Larry Taunton. Taunton shares the conversations between him and Hitchens as they traveled the country debating whether Christianity has been good for the world. I think you'll be encouraged to know that even those who attack God must wrestle with him.
Better Decisions, Fewer Regrets: 5 Questions to Help You Determine Your Next Move by Andy Stanley.
Life is a series of decisions that determine who you are and what kind of impact you have. Do you have a strategy to make good decisions? I didn't think so. Most of us don't. Sometimes we go with our gut, while other times, we are influenced by a friend or a "sign" from above. There must be a better way. The five questions are: Am I being honest with myself, really? What story do I want to tell? Is there a tension that needs my attention? What is the wise thing to do? What does love require of me? I wish I'd read this book a couple of decades ago.
After Doubt: How to question Your Faith without Losing It by A. J. Swoboda
It turns out there's a huge difference between doubting and deconstructing your faith. This book, written by a professor and former pastor who had his own experiences with both, helps you ask questions without losing your faith.
Lessons in Leadership: A Weekly Reading of the Jewish Bible by Jonathan Sacks
The Rabbi walks through the Pentateuch offering incredibly valuable insights into leadership.


History


The Hardest Job in the World: The American Presidency by John Dickerson
Disappointment is the gap between expectations and reality. Usually, that equation is used to correct unrealistic expectations in our personal lives. But it also applies to our disappointment with presidents. It seems that every president is a disappointment in that he fails to live up to expectations. But if every president is a disappointment, then maybe the problem is not simply a failure to elect the right person. Maybe the problem is also an unrealistic expectation for the job. Dickerson makes presidential history come to life, showing how to evaluate which candidates are best suited for the job.
Was America Founded as a Christian Nation: A Historical Introduction by John Fea
The title of this book asks an important and hotly-debated question. How you answer it will shape your expectations for how Christians should live out their faith in the public arena. If you believe America was founded as a Christian nation, you probably think we need to get back to our Christian roots. And you expect Christians to feel very comfortable in American political and cultural life. If you think the answer to the question is no, then you won't be surprised that Christians will have to navigate a difficult political and cultural environment.
Listen to my interview with author John Fea for more.
Believe Me: The Evangelical Road to Donald Trump by John Fea
This is a fascinating book tracing the rise of the Christian right from Billy Graham to Jerry Falwell and the Moral Majority to Donald Trump. It recounts the key players, political victories, and moral compromises in each era.
Jesus and John Wayne: How White Evangelicals Corrupted a Faith and Fractured a Nation by Kristen Kobes Dumez
While I have some disagreements with the author, I am very glad I read this book—twice. Dumez is a historian who argues that hyper-masculinity—modeled more after John Wayne than Jesus—has corrupted the church and led people away from Jesus. It's hard to read this book and come away thinking things are okay. All Christians—all churches—need to do some self-examination to see where they may have contributed to the problem.
Listen to my interview with author Kristen Kobes Dumez for more.


People's Stories


Hidden Valley Road: Inside the Mind of an American Family by Robert Kolker.
As the father of four kids, I Can. Not. Imagine. having twelve kids. When do you go to the bathroom? Don and Mimi Galvin had 12 kids, six of whom were diagnosed with schizophrenia. No words. The author compassionately portrays this family in all its complexity. Parents who deny in public what can't be denied at home. Siblings who suffer and try to escape. Medical professionals with no idea how to help other than to over-medicate.
The Question of God: C.S. Lewis and Sigmund Freud Debate God, Love, Sex, and the Meaning of Life by Armand Nicholi
Lewis and Freud never met each other, but Lewis indirectly engaged with the arguments of one of the 20thcentury's intellectual giants. Dr. Nicholi taught a class at Harvard on these two thinkers for 25 years. In his book, he shares the beliefs of each man but also how those beliefs played out in their personal lives.
A Very Punchable Face: A Memoir by Colin Jost
I listened to the Audible version read by the author, and I'm pretty sure that was a good decision given that he's a comedian with SNL. When I finished, I thought either this guy has a far more interesting life than me, he's lying, or he just knows how to tell stories to make everything sound funny. Either way, it makes for an entertaining read.
Even in Our Darkness: A Story of Beauty in a Broken Life by Jack Deere
When this book was recommended to me, I wondered if this was the same Jack Deere who wrote a book I was assigned in seminary some 25 years ago. Yes, it was. I didn't know back then that suicide, depression, anger, and alcoholism had ravaged his family. Deere shares the struggles he faced with humility and grace-giving hope to those who will surrender their life to Jesus.
On The House: A Washington Memoir by John Boehner
I grew up in a political home and have always been attracted to the stories behind the headlines, as well as the personal stories of those in leadership. John Boehner was in the US House of Representatives from 1991-2015, serving in several leadership roles, including Speaker from 2011-2015. He was there during the rise of the Tea Party, the budget negotiations with President Obama, and the rise of Donald Trump. Not only was he there, but he was inside the room where it happened. I recommend the Audible version with the author as the reader.
Where the Light Fell: A Memoir by Philip Yancey
I've read Yancey ever since I became a Christian. In his books, he refers obliquely to growing up in a legalistic home and a fundamentalist church. Now, in this memoir, he tells the full story. Wow. It's a doozy.
Listen to my interview with author Philip Yancey on Ten Minute Bible Talks for more.


Sexual Ethics


Embodied: Transgender Identities, the Church, and What the Bible Has to Say by Preston Sprinkle
A biblically faithful and personally compassionate perspective on one of the most sensitive topics Christians must interact with. Sprinkle answers tough questions such as whether we are defined by our psychology (how we feel) or our biology (our anatomy)? If you're going to read one book on this topic, this is it.
Irreversible Damage: The Transgender Craze Seducing Our Daughters by Abigail Shrier
I read this at the end of 2020 after my book list had already been posted. It's good enough and important enough that I think it's worth putting on this year's list. The author focuses on girls in middle school and high school who have never shown any signs of gender dysphoria but are now claiming to be boys and being referred for irreversible medical treatment—without their parent's knowledge. If you have daughters or granddaughters, I'd read this book.


Fiction


The Extraordinary Life of Sam Hell: A Novel by Robert Dugoni
Sam Hill was nicknamed Sam "Hell" by his classmates because of his red eyes caused by ocular albinism. God brought Ernie and Mickie into Sam's life to help him navigate his childhood and come to see that maybe those red eyes are actually a gift.
Revolutionary Road by Richard Yates.
Be warned that I like novels that are honest about the human condition. By all accounts, Frank and April Wheeler had a good life. Some might have even called it a great life. So why couldn't they be happy? Why did they have to screw it up? Read it and tell me if you don't know a lot of "Frank and Aprils." You might even find them in your life.
---
Need help determining what you should be reading and watching? Read on to learn why what you consume shapes who you are.