Hurry Sickness: The Disease Infecting Us All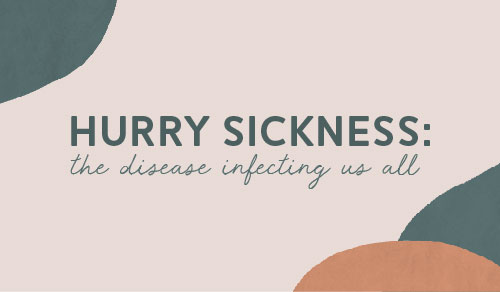 Do you ever feel a sense of unrest? Anxiety? Discontentment? Chaos in your heart and mind as you try to keep up with this fast-paced life?
In his book, The Ruthless Elimination of Hurry, John Mark Comer calls this "hurry sickness." And with this diagnosis, he puts his finger on something I had been feeling but couldn't name.
This past winter, a few days after Christmas, I closed his book, overwhelmed with emotions. I had already hit my Instagram limit for the day, but I ignored it because I could not contain myself! I needed to share. This book named the longings of my heart and the state of my mind better than anything (besides the Bible) that I've ever read.
This problem, this "hurry sickness," is most evident to me when I reflect on so many of the good disciplines and healthy patterns I've attempted to implement in my life as a Christian. The story is always the same. I get inspired and convicted. I start off strong. Then I crash and burn. And I know I'm not the only one. The constant busy and anxiety is a deep-rooted problem in our society as a whole. And it affects all of our hearts and minds.
I have constantly deprived myself of the mental, physical, emotional and spiritual space I need with this incessant need to go-go-go, achieve more, stay busy, meet all the expectations, please all the people, complete the task. You know, just keep up with that general pace of life that our society says is valuable.
The Ruthless Elimination of Hurry confronts all of these cultural norms.
It's like John Mark was punching me in the stomach (lovingly of course) over and over with his painfully relatable and truthful writing. Putting words to the problem that has plagued my whole life. Then, he hits me with the knock-out punch: "Because what you give your attention to is the person you become."
Well shoot. This is not just a scheduling issue or an internal peace issue or something to change just so I can feel better day-to-day. This is a matter of whether I become more like Jesus or not. Have I been suffocating myself spiritually with hurry? Am I moving farther from the way of Jesus, rather than closer to him?
Fortunately, John Mark doesn't leave us with this bummer of a problem. After diagnosing the issue (the stomach punching part), he finally graces us with "the solution," which *spoiler alert* is Jesus. Shocker. But it's not in a band-aid-for-your-problem, make-you-feel-stressed-out-and-terrible-about-yourself kind of way. Instead, a life of apprenticeship under Jesus is the answer to our soul's problem. Jesus invites us to take up his easy yoke and follow him. We just need to say yes.
John Mark ends his book with practical ways for us to live out this life of the easy yoke. I hope you read it for yourself. But, in the meantime, I want to share the three biggest ways this book/truth has practically and wonderfully changed life for my family:
1. Sabbath rest
A big part of our overly hurried lifestyle was our lack of rest. We didn't ever stop, our schedules never emptied, and this lack was suffocating our souls (dramatic I know). But now, one day a week, we practice sabbath rest. We disconnect from our phones and our work. And we fill our time stopping and resting in who God is. The change can be a little painful. We don't do it perfectly. But we are slowly growing and learning.
As my friend Lauren put it, "I started practicing sabbath and quickly realized God intended us to rest because, when I do, I feel more human. I experience more fullness, more peace, more connectedness to God." This is the easy yoke Jesus offers.
2. Simplicity
This one is HARD FOR ME. Basically, my husband and I are constantly fighting (or fighting to fight) the accumulation of "more." More stuff in our home, more clothes, more things on our schedule, more money to be spent, etc. We ask ourselves: Does our budget reflect what we say our lives are about? Does our schedule? Does the way we are spending our time and money reflect of who Jesus is and who we want to be? This is so challenging because I LOVE STUFF. I love how it makes me feel and look. But I love Jesus and a life with him more. So it is important for me to intentionally prioritize the things that really matter and cut out the extra stuff.
3. Slowing
Slowing is the thoughtful decision, over and over throughout our day, to actively resist the temptation to rush and hurry. When we move fast, we get stressed and miss out on important opportunities to experience God in the present. When we're driving somewhere and my husband starts to get irritated with the grandma in front of us, he'll ironically yell, "RUTHLESS ELIMINATION OF HURRY" as he brakes. Reminding himself that we're not in a rush and it's okay to go slow.
---
I could go on forever about this book and the truths about Jesus that it reveals. On that same winter day that I finished reading it, I didn't feel well. I didn't want to take the time to give my body good food. My house was messy, and friends were on their way over. But instead of giving in to the rushed solutions that I thought would make things better, I chose to sit in that slow, imperfect moment. I decided to value what my soul needed instead of what culture trains me to want.
These thoughts, simple yet profound for me, stemmed from contemplating the things from this book. Read it. Let's talk about it. My desire is that you would experience this freedom hurry—life with the easy yoke—too.
---
How will you ruthlessly eliminate hurry in your life? Sign up for our email devotional through the Psalms of Ascents and take time each morning to read and pray through a Psalm as you develop the practice of slowing in your life.