5 Children's Book to Tell a Bigger Story at Easter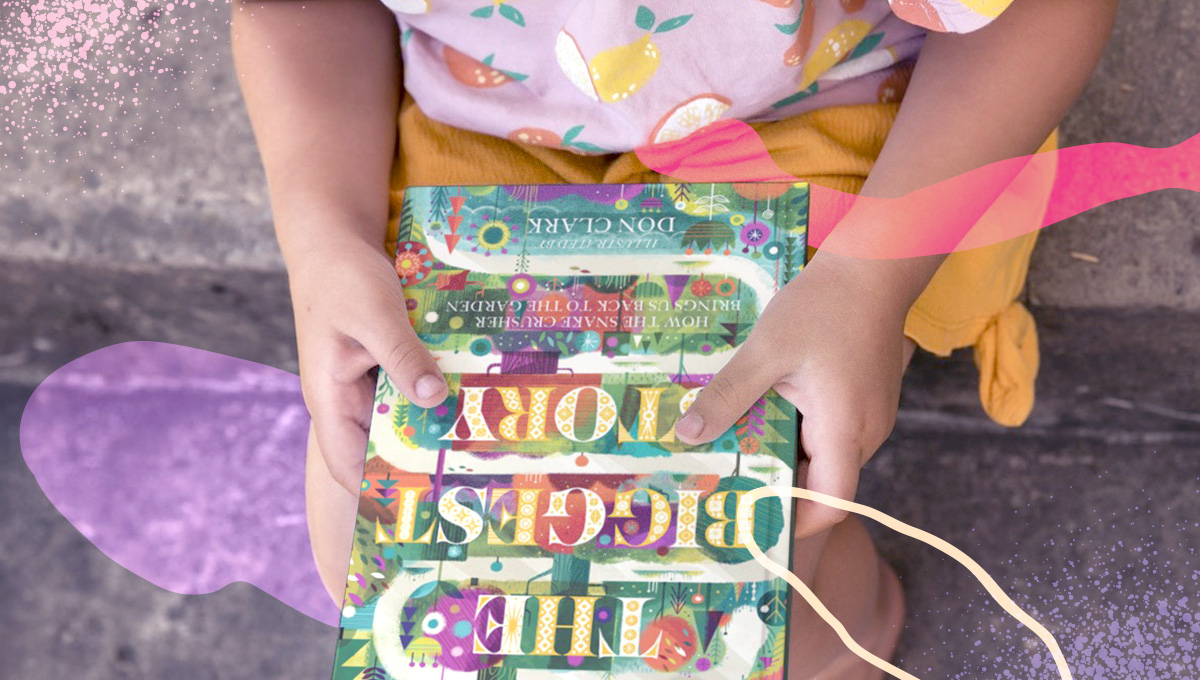 Ask any kid what their favorite holiday is, and they'll probably tell you- CHRISTMAS! What's not to love? Presents, decorations, time off from school, and most people in our community celebrating (whether they focus on Jesus or Santa). There's just something about Christmastime that's exciting and almost magical.
But what about Easter?
The wonder of the Christmas story would be nothing without Easter. How can we help kids understand these amazing and true events and build their excitement for the resurrection? Our suggestion? Tell a bigger story.
Storytelling is a wonderful way to help kids understand true events, captivate their attention, and touch their hearts. A great book can have a lasting impact on a child's faith. As you think about celebrating Easter with your family, use one of these books to help your kids focus on the greatest story ever created. We've included excerpts from their Amazon descriptions to help you decide which is best for your family!
The Garden, the Curtain and the Cross Storybook
by Carl Laferton
"This beautiful hardback Bible storybook for 3-6-year-olds takes children on a journey from the Garden of Eden to God's perfect new creation. It is a gospel presentation that focuses on the significance of the temple curtain. God said, 'because of your sin you can't come in', but the moment the curtain tore in two, everything changed. "
The Biggest Story ABC
by Kevin DeYoung
"From Adam and Eve in the garden of Eden to Zion and the new creation world, the Bible is telling one big story― Each page in this board book introduces a new letter of the alphabet with engaging and whimsical illustrations from award-winning artist Don Clark, retelling the biblical narrative in one continuous story."
A Very Happy Easter
by Tim Thornborough
"This fresh retelling of the Easter story focuses on the emotions of Jesus' friends and invites children to copy the expressions they are making. As they learn about how Jesus died and rose again, they will see that Jesus' friends felt fear, sadness, surprise, and joy, and they will have the opportunity to think about how they would have felt."
The Jesus Storybook Bible, Read-Aloud Edition: Every Story Whispers His Name
by Sally Lloyd-Jones
"Featuring the beautiful writing of New York Times bestselling author Sally Lloyd-Jones and the award-winning art of Jago, The Jesus Storybook Bible, Read-Aloud Edition tells the Story beneath all the stories in the Bible, inviting children to join in the greatest of all adventures."
The Biggest Story: How the Snake Crusher Brings Us Back to the Garden
by Kevin DeYoung
"With powerful illustrations by award-winning artist Don Clark, this imaginative retelling of the Bible's core message―how the Snake Crusher brings us back to the garden―will draw children into the biblical story, teaching them that God's promises are even bigger and better than we think."
Interested in this book? We'll be giving every family who attends our Family Easter Celebration a copy! Be sure to sign-up for this fun evening of stories and worship.