20 Fun Summer Activities (For When the Kids are Driving You Crazy)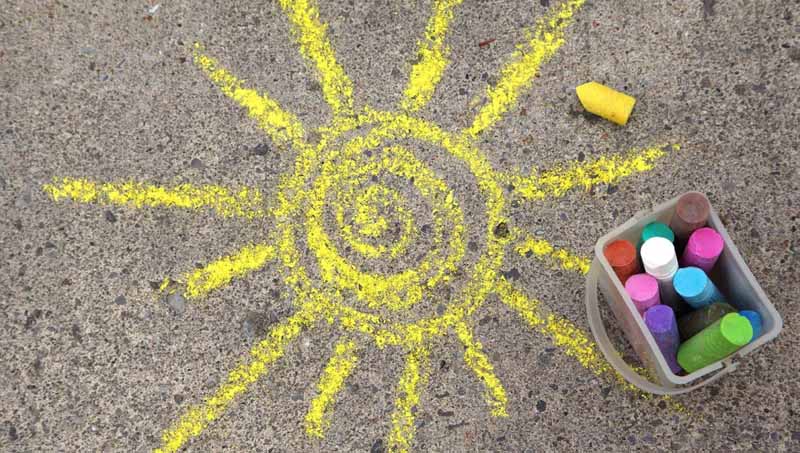 "I'm soooo booooored," said every kid everywhere at some point in the summer. As wizened parents know, boredom can lead a kid to one of the following options:
drive you or all people in your home batty
jump on a screen
do creative and fun activities that make them a better human being.
Let's consider these. (1) Driving us crazy is never an option, amiright? (2) Handing said kid a screen is easy and it works. I've done it too many times myself. But, as we know in our heart of hearts, the best option is (3).
From little ones to teens, our kids can enjoy, connect with others, and learn so much more in the summer if we have a few great boredom busters up our sleeve. Here are 20 summer activities to help springboard your kids into creative fun in the sun.


Make a sensory box
Ages: 1+
Although this idea is geared for younger kids, elementary children often like to play in a sensory tub as well. Fill a wide, shallow container (with a lid for easy storage) with one of these items: dried beans, popcorn, rice, sand (I highly recommend Kinetic Sand for easier clean-up)*. Then, put measuring cups, small vehicles, and other toys or tools in it. *Some of these smaller items are a choking hazard for toddlers, so be nearby and give oversight.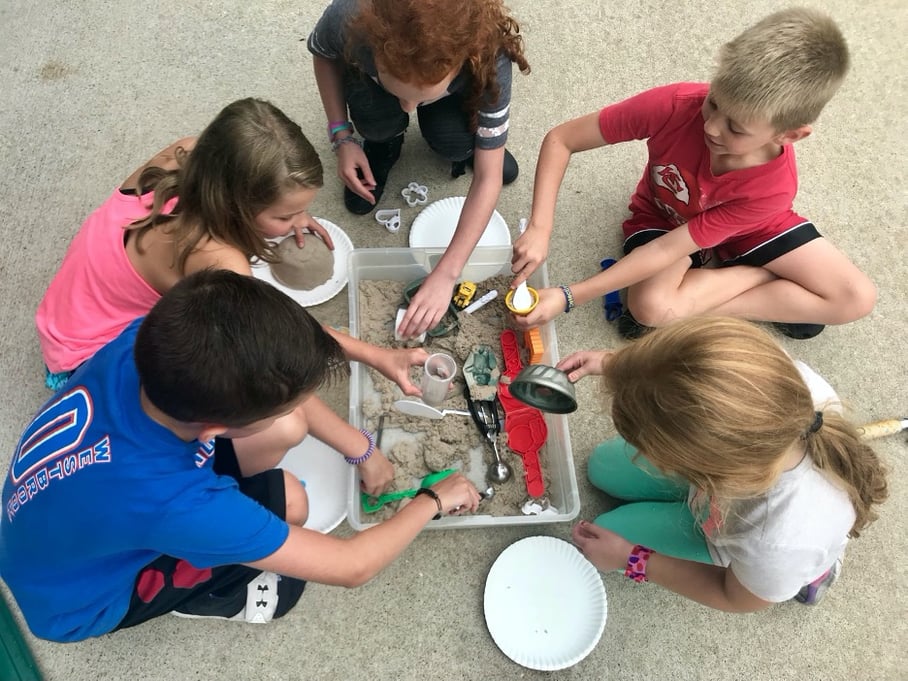 Ages: 1+
This activity will keep younger kids busy outside for quite sometime. Freeze little toys inside a large plastic container (make sure it's plastic so it can expand in the freezer!). Fill it with water about 3/4th of the way full, so it has room to expand. Once the block is frozen, pop it out and have the kids try to break out the trapped toys. Children can use a variety of tools for this "scavenger hunt" depending on their age, such as:
turkey baster or water bottle to spray water on it
meat mallet
plastic tools
real tools (screw driver, hammer, etc)
plastic utensils, like forks or spoons
salt – Use this as a science lessons to show how salt melts ice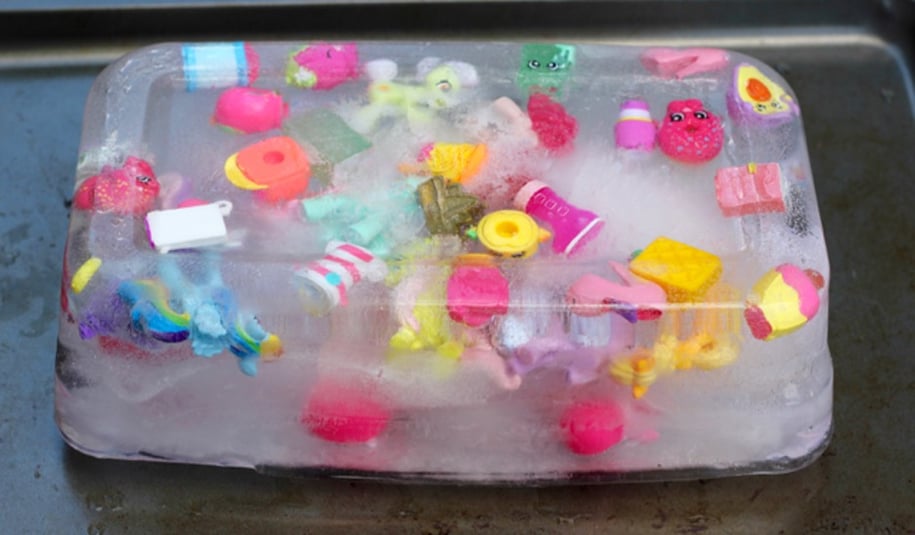 Ages: Whenever they are old enough not to eat it. 😊
Making the play dough does require hands-on parent time. But, after that, give them some tools to work with at the counter while they play with their new play dough, such as:
plastic forks and knives
Mr. Potato Head pieces (so they can create their own characters)
cookie dough cutters
pizza cutter
paper plates (mine use these to make "food" for their "restaurant")


Give your kid a box
Ages: All
Seriously. I don't know what it is about boxes, but kids love them and their imaginations go wild when boxes are involved. Below are some ideas to do with boxes:
Give your kids paint brushes and washable paint and let them go to town decorating their box.
Build a fort. Use duct tape and scissors to connect the boxes and cut out windows.
Create a miniature house for dolls, a fort for super heroes, or an apartment for Barbies (like my 11-year-old daughter does). Use markers, glue on construction or scrapbook paper to the walls, cut out windows and doors, etc.
Draw a target in the center and use them for Nerf gun target practice indoors or outdoors.
Create furniture for American Girl or baby dolls (i.e. table, bed, dresser)
Connect the boxes to create a Box Maze/Tunnel. Again, duct tape and scissors required.
Have each kid create his or her own box car. See example below from about 8 years ago in my house. I used to push them around the kitchen in these. ☺️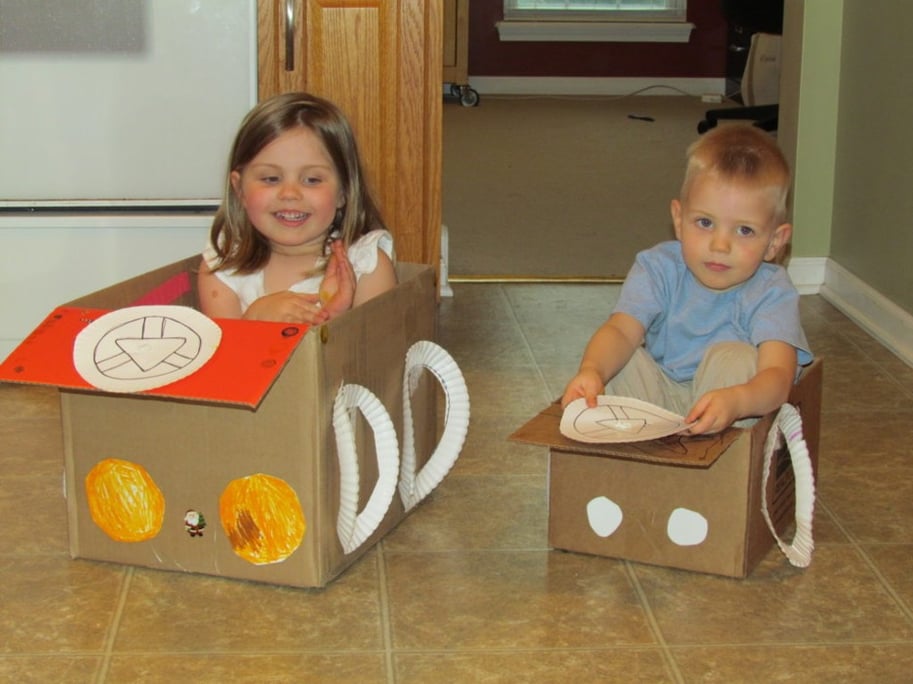 "Paint" the fence
Ages: 1+
Give your toddler or preschooler a bucket of water and an old paintbrush. Then, let them loose to paint the fence or paint the concrete. That's it! My kids loved doing this when they were little.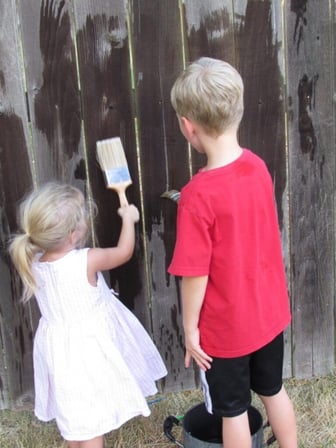 Make slime
Ages: Preschool and Older
My daughter is a slime scientist and has many opinions on what is the best recipe. There are many variations out there (just check Pinterest). But, here is a pretty easy slime recipe that we've had good luck with over the years. You'll need 3 main ingredients: Elmer's glue, Borax, and food dye.


Make marshmallow and toothpick structures
Ages: Preschool and older
Even I found this engineering activity entertaining. Hand your kids a bag of mini marshmallows and a box of toothpicks and see what they construct. Your kids can try to figure out how to make a bridge or a skyscraper that can support its own weight. Or, make a hideout for their super heroes. The sky is the limit. And…then you can eat it.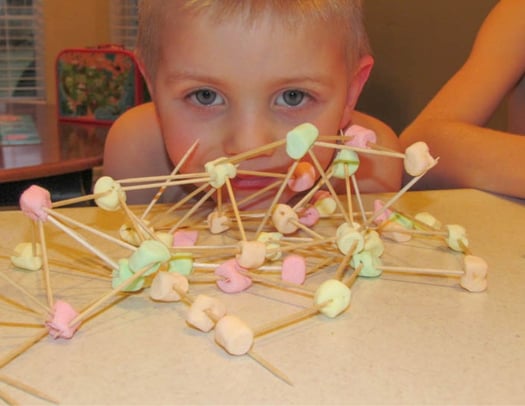 Give your kids old or broken machines and some tools
Ages: Depends on the kid, but probably 5+.
Let them take apart old or broken machines like alarm clock, CD player, toaster and/or try to put it back together. In the parenting book 10 Ways to Destroy the Imagination of Your Child, this was one of the author's ideas that I've let my kids try. It was a big hit, and it gave them a chance to see how machines work through discovery on their own.


Issue a loom band chain contest
Ages: Elementary and Older
Our kids have spent hours a day on this fun activity! Order these loom bands (tiny rubberbands) and work together to weave the longest band chain. Each kid can create their own chain and then everyone connects theirs. Issue a challenge to another family (or another neighborhood!) and then measure the chain length at the end of a designated time period.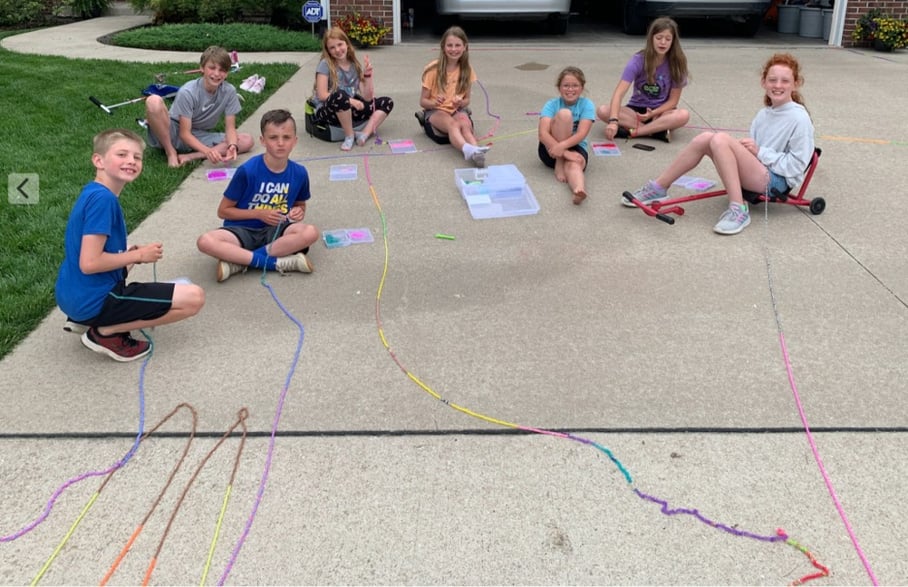 Ages: All
Audiobooks can provide hours of screen-free entertainment for the whole family. I've found they work best on road trips, which we won't have many of this year. But, we also listen a few times a week to one in the living room before bed. They can be fun to turn on while crafting or puzzling, too. Here are some of our family's favorite audiobooks.


Do a puzzle together
Ages: All
If you get the right puzzle most kids will at least try a puzzle with the family. Think about characters and themes your kids like and make sure the puzzle is just the right amount of difficult (but not too difficult). We often have a puzzle on our living room table to work on in the evenings.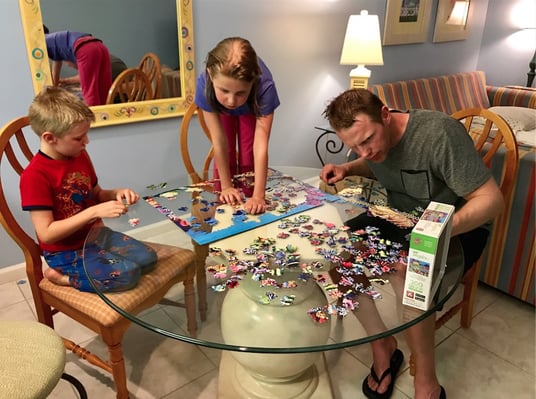 Wash the car (or bikes)
Ages: All
Throw the kids in their swimsuits and slather on the sunscreen. Then, give each child a bucket full of soapy water, old wash cloth, and access to the hose. My kids stay busy for a long time doing this one.


Camp in the backyard
Ages: All
When we did this, the kids had SO.MUCH.FUN. We set up tents and a little campfire. We made s'mores, sang campfire songs, played games, and told silly ghost stories.
For younger kids: Set up the tent to play in during the day. Eat a picnic lunch, play cards, and read in your tent.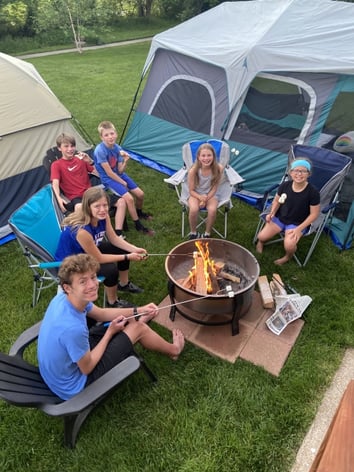 Create a 4-Square court
Ages: Elementary and older
Using chalk, create a 4-Square Court outside. Or, if you have room in the basement, consider creating a 4-Square court using painter's or masking tape. You can use a playground ball or smaller inflatable ball. The indoor option is perfect for rainy, super hot, and winter days, too. My kids have played this a LOT.


Offer the kids a job
Ages: Elementary and older
My 11-year-old daughter came up with this boredom buster idea, and I think you're going to like it. Create a list of jobs around the house that your child could do to earn some money. Think of jobs that go above and beyond family duties that they can help with—wiping baseboards, sweeping the garage, cleaning out the car, raking, etc. This helps you and them out!


Watch films together and discuss them
Ages: Elementary and older
We regularly use Common Sense Media to screen movies and to get ideas for discussion topics before watching them together. Here are a few excellent movies for families (with elementary and older kids) to consider watching and discussing:
Be sure to look these up on Common Sense Media first to make sure you're comfortable with them. Let us know if you have any other movie ideas in the comments!


Buy an inflatable pool (you'll thank me)
Ages: All
I got this cheap pool and my kids (and neighbor kids) LOVE it. They put rafts in it and play all sorts of games. All ages love it. Be warned: it's huge when inflated and not the easiest to set up and take down.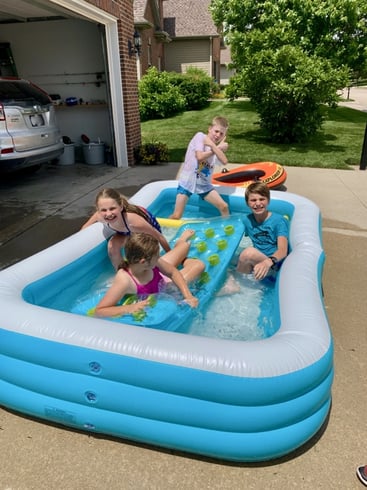 Go hiking with nets and buckets (and old shoes on)
Ages: All
This summer is the perfect time to explore new trails in your area! The kids and I use cheap nets and buckets to collect and study (and then release) everything from butterflies to minnows to frogs and to crawdads.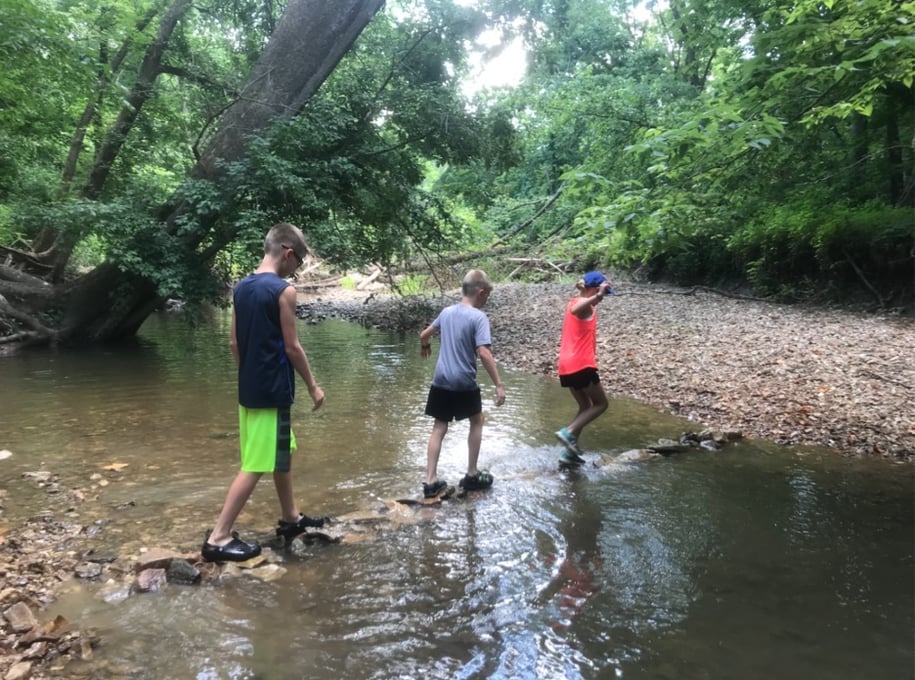 Challenge your kids to a read-off
Ages: Elementary and older
Create a fun reading challenge for your kids over the summer. We created one called the Classic Novel Challenge, where we challenged them to read a certain number of classic novels that we helped them choose. At the end, they get a special dinner of their choice and a little prize to celebrate.
They have been so motivated! I find them reading all over the place…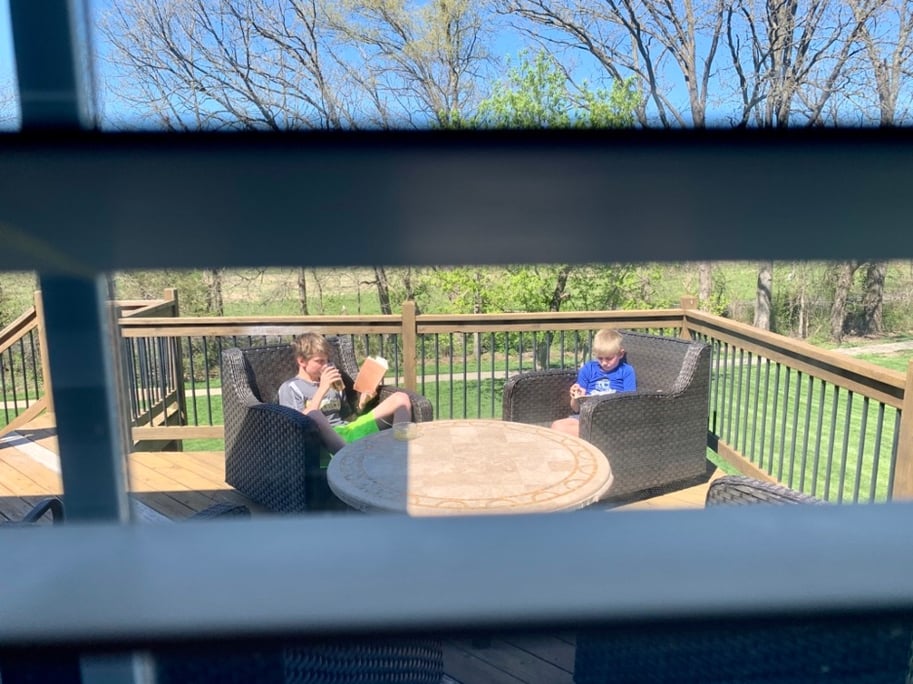 Invest in some fun learning resources
Who says summer can't be a time of learning, too? From investigating electricity to solving logic puzzles, here are a few (screen-free) learning games and toys that have gotten a lot of use in our home:
Playing Cards – Try playing Old Maid, Go Fish, War, Solitaire, and Nerts (like group solitaire).
Chalkboard – My kids used this for years to play school or keep score during games they made up.
Magnatiles
Sequence, Jr. and Sequence board games
Fractiles
Tinker Toys
Marble Run Set
Tensi – A fast-paced dice game for all ages.
Snap Circuits – Kids learn about electrical circuits as they build different projects.
ColorKu – Sudoku in color. This addictive game can be played alone or with friends.


---
Looking for more ideas on how to make the most of this summer at home with kids? Check out Rachel's 3 Tips for an Intentional Summer with Your Kids.