Genesis is where it all began, but how can you find a way to teach these big truths to your kids?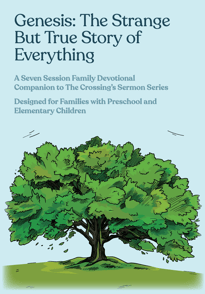 In Genesis, we learn where we came from, who we are, and what our purpose is. We also learn how things went wrong and why life on this earth is not the way it's supposed to be.
We want to encourage parents to take the next step when it comes to nurturing the faith of their children. To help, we've put together this simple guide that walks through seven stories covered in The Crossing's sermon series through Genesis. This devotional is designed for families with preschool and elementary-aged children.
Each devotional includes:
A Bible reading

A few discussion questions and points for conversation

A prayer

A printable coloring card to

serve as a tangible reminder of what your family has learned
By the end of your time together, you'll have a
better picture of our promise-keeping God.
Complete the form to have a copy of this free e-book delivered straight to your inbox.