Prepare your heart for Christmas with a beautiful visual reminder of what God has done for you.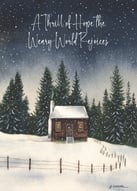 In the book of Deuteronomy, God challenged the Israelites to hang reminders of his promises throughout their homes. This original Christmas art by Jeanette Cover is meant to do just that.
Find a place in your house or office to hang or frame it as an ongoing reminder of the hope Christmas represents for our weary world.
Complete the form to receive your free Christmas art, along with ideas for how to display it this Advent season.