Are you focused on what matters this Christmas?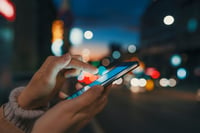 Too often, Christmas is a season defined by rushed timelines, complicated (and expensive!) shopping lists, and chaotic gatherings. Because of this, it's easy to lose sight of why this holiday really matters.
One of the best ways to keep the true meaning of Christmas top-of-mind is by meditating on God's word and the Good News of Christ's coming. That's why members of our staff have created a series of daily Christmas devotional emails. Starting Monday, December 2, 2019, an email will be sent each weekday leading up to Christmas.
Some Topics To Expect:
"Christmas Isn't About Going to Heaven"
"Pondering and Treasuring When Circumstances Aren't Ideal"
"Will You Let God Disrupt Your Life?"
Complete the form to start receiving these free Christmas devotions directly to your inbox.