Reminder: Jesus is More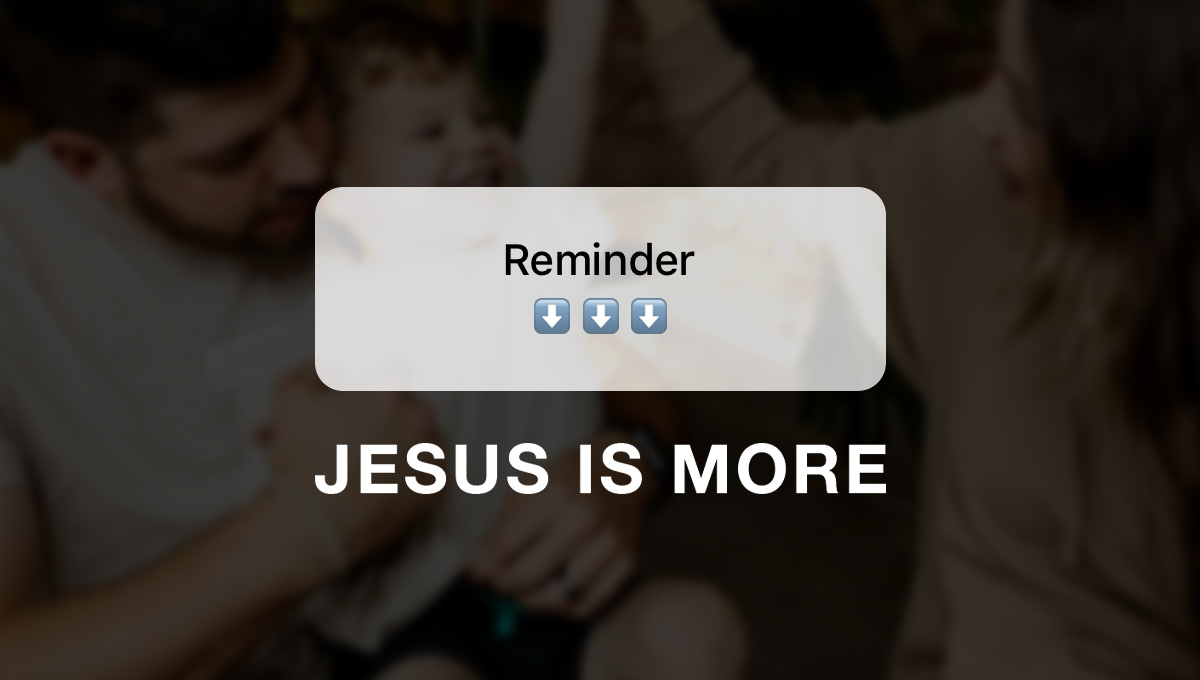 Well...we're doing something I honestly thought we would NEVER do…
But before I tell you what it is, I want to ask you a couple math questions.
Here's the first one:
Jesus > x
And the second:
Jesus + 0 = y
Now, solve for x and y
The answers are:
x = anything
y = EVERYTHING.
Hey, maybe it's a little cheesy, but these kinds of "gospel math equations" make the point:
Jesus is greater than anything and Jesus + nothing = EVERYTHING.
This is the basic proclamation of the Bible. The whole story from Genesis to Revelation is the "proof" for the gospel equation.
The Apostle Paul sums it up like this,
In [Jesus] all things were created: things in heaven and on earth, visible and invisible, whether thrones or powers or rulers or authorities; all things have been created through him and for him. He is before all things, and in him all things hold together… Colossians 1:16-17
We live in a Jesus centered universe because everything was created, is sustained, and will be renewed by Jesus. And that includes you and me!
This is why the "Sunday school" answer is usually right. Because we live in a Jesus centered universe and because we've been given a Jesus centered book that tells a Jesus centered story. A story that Jesus calls us to be a part of!
Help More People Believe Jesus Is More
Just before Jesus ascended into heaven, he told his followers,
"All authority in heaven and on earth has been given to me. Therefore, go and make disciples of all nations… teaching them to obey everything I have commanded you. And surely I am with you always, to the very end of the age."
Matthew 28:18-20
And here we are 2000 years later because that's exactly what Jesus's disciples did! And that is what Jesus still calls us to do too.
The Crossing's mission statement reflects this calling from Jesus: to transform the hearts and minds of more people to believe Jesus is more.
To emphasize this, our church is about to start a new sermon series called, you guessed it, Jesus Is More.
If you're like me, you need constant reminders to live out what you really do believe. And this got us thinking…What would it look like to help remind each other to live a Jesus Is More kind of life? To be Jesus Is More kind of people?
It's More Than a Hat. It's a Reminder of Who You Are.
So we've made some reminders.
This new collection of shirts and hats are now available to help remind you that Jesus Is More and that we've all been called to be Jesus Is More kind of people.
To be honest, making "religious shirts" was never really something I thought we would do.
But the idea started when we made some hats that said "Jesus Is More" for staff earlier this year.
Maybe you heard Dave Cover share a funny story in his sermon about trying to check in to a hotel while visiting his daughter in D.C. As we've all probably experienced, the check-in wasn't going very smoothly that day. Dave began to lose patience with the young woman at the desk, raising his voice in frustration… all while wearing a bright white hat that said "Jesus Is More" across his forehead.
A few minutes later, he realized he was wearing the hat. And he felt convicted that, in that moment, he wasn't living out what he believed. Those words reminded him, "I want to be a Jesus Is More kind of person." So, he went back and apologized to the woman.
She was a bit stunned. She deals with frustrated and angry people all the time. How many have come back and apologized? That's the difference that truly believing Jesus Is More makes.
It's More Than a Brand. It's a Belief.
Maybe you're like Dave, or me, and having this kind of physical reminder would help you too. What would happen if more people got to see how a Jesus Is More kind of person lives? And I mean literally see it. "There goes a follower of Jesus."
I want to treat people like I'm a part of the bigger and better story in Jesus. I want to live a Jesus Is More kind of life.
I believe that the promises of Jesus are far MORE for me and for you than the false promises of sin.
Jesus Is More is not a brand. It's a belief.
Jesus Is More is not a shirt. It's an identity.
Jesus is More is not a slogan. It's the truth.
Why? Because Jesus is more than… EVERYTHING
So wear your belief.
"I want that reminder too! Where can I get one?"
Great question! You can order online at jesusismore.com.
"Just curious, where'd the money come from to pay for all this? Where's the money going?"
All clothes are priced so that we break even. The idea is no money lost, no money made. If you buy something you're paying for the cost of materials and operational expenses. We have a relationship with a local apparel vendor so our inventory is small and costs are minimal.
Already own some Jesus is More merch?
Post a pic wearing it with #jesusismore and tag and follow us @jesusismore_JIM on Instagram.
---
Check out the new collection of Jesus is More apparel. Available now!