Christmas Lights: A Simple Family Activity to Point Your Children to Jesus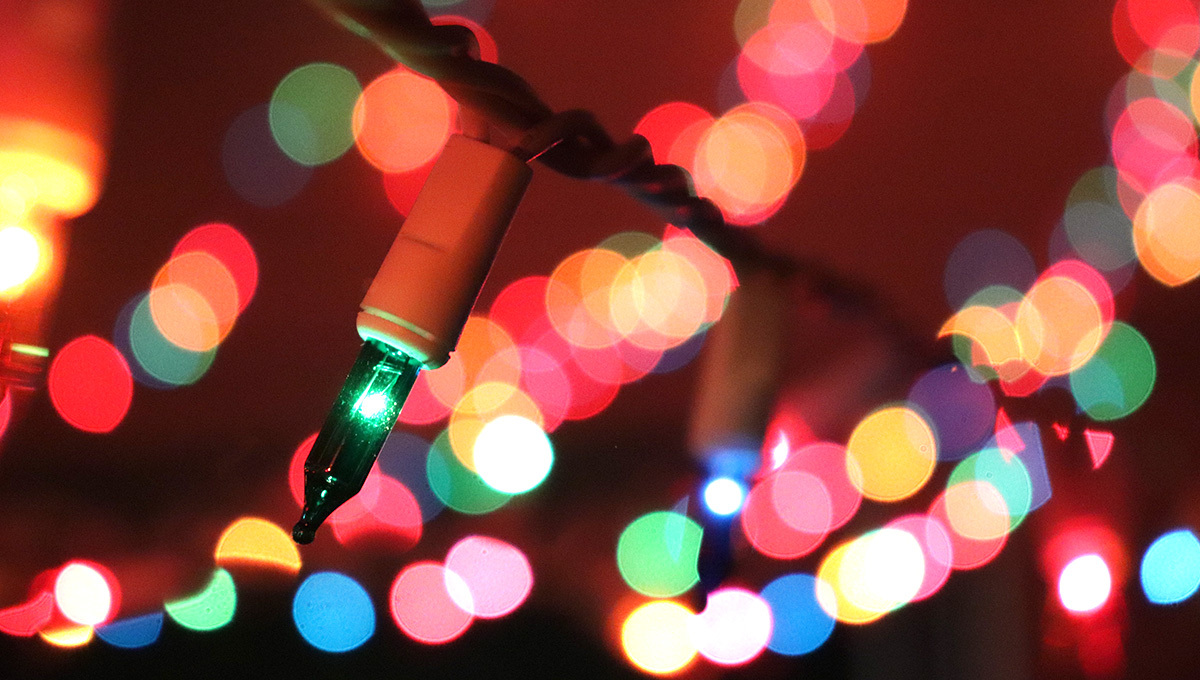 My oldest son inherited his mother's nighttime woes. Fears and worries overwhelm at the time designated for peace and quiet. The stillness that beckons most to drift off instead gives us space for what has been held together during the day to collapse.
We both have roommates who rarely experience this phenomenon. Their heads hit the pillow, and snoozing occurs instantaneously, while we're left alone to navigate the darkness.
In her book Prayer in the Night, author Tish Harrison Warren writes,
"John of the Cross coined the phrase 'the dark night of the soul' to refer to a time of grief, doubt, and spiritual crisis, when God seems shadowy and distant. The reason this resonates with us is because night typified our fears and doubts—'the hard day of the soul' or 'the gray morning of the soul' would never have had the same staying power."
There is something especially mysterious, morose, and foreboding about the night.
Literal darkness can be dangerous, but spiritual darkness is even more so.
The prophets describe God's wayward people as those walking in darkness. John writes in his Gospel that the judgment is this, "Light has come into the world, but people loved darkness instead of light. They loved darkness because what they did was evil." (John 3:19)
As vulnerable as darkness makes us feel, our fallen condition pulls us back to it like a magnet. We believe that darkness offers us the opportunity to hide our transgressions, to cover up what we have done.
The images of darkness and light are some of the Bible's favorites. God's first command in the creation account is "Let there be light." Creation could have begun in a variety of ways, but this illuminating separation sets the tone as the story of scripture unfurls. After the Exodus, God comes to his people as a pillar of fire by night, guiding them through the dangers of the wilderness reminding them of his presence.
This is not the last time God will come to his people as light.
The incarnation is God's answer to the aching question, "Is darkness all there is?"
John writes that the light shines in the darkness and the darkness has not overcome it (John 1:5). Jesus is the light of the world, shining as a beacon for those who struggle to believe that light is possible again.
I wonder how many of us need to be reminded that an eternal light didn't just come once but is coming in even greater glory again. Darkness will not have the final word. Someday when he returns, night will be no more. (Revelation 22:5)
Years ago, Dave shared an Advent sermon that has stayed with me through the ups and downs of every holiday season since. In it he says,
"So hang some Christmas lights up and let those lights shining in the darkness be a sign. Not a sign of tradition or a sign of better years gone by. Not a sign of family, or of memories, or of nostalgia. Because the more we think Christmas is about family in that way or nostalgia or tradition, the more it will eventually bring us grief and sadness. The loss of family is unavoidable in this dark world. Pretty soon, all our realities will be replaced by memories and nostalgia.
Don't put Christmas lights up for that…When you get out your lights, let it be a sign to you that, no matter how great your darkness is, God has not abandoned you to the darkness."
Each December since our family has not only hung up our own Christmas lights. By driving around town, we've enjoyed the displays of others. As we've done so, we've tried to be intentional about connecting the dots between what we are enjoying to what the lights ultimately point to.
Get even more joy and significance out of Christmas lights this year with this simple family devotional activity.
Activity: Christmas Lights Point to the Light of the World

Say: Tonight, we are going to talk about darkness and light.

Ask:
Can anyone think of a time where you've been someplace really dark?

What does it feel like to be alone in a really dark place?

What is difficult about being alone in darkness?
Say: Being alone in the dark can be really scary. It makes us feel lost, out of control, lonely, and afraid. Did you know that the Bible talks about darkness a lot? Let's read a little more about this together.
Read: Isaiah 9:2 or page 146 of The Jesus Storybook Bible.
Ask:
What do you think he means by "darkness?"
(Sin)
Say: Sin is darkness. It separates us from God. Isaiah isn't just talking about the Israelites in this passage. He's talking about all of us. We are all people walking in darkness. This same verse also gives us a promise, though. It says that a light will shine. Let's read more about this light together.
Read: John 1:1-9 and John 8:12 or "The Light of the Whole World" in The Jesus Storybook Bible (pages 184-193).
Ask:
Who was the Light in this story?
(Jesus)


What did the Light do?
(Gives life, shines in the darkness, overcomes the darkness, gives light to every man, etc.)

Say: During Christmas, people use Christmas lights to decorate their homes and trees. Christmas lights shine in the darkness of night. When we see them, we can remember that Jesus came to be the Light of the World.
He shines through our darkness. Because of him, we don't have to be afraid. Because of him, we know that darkness won't always have the last word.
Pray:
Jesus, thank you for being the Light of the World. Thank you for the hope that you offer. Thank you that the darkness cannot overcome you and by extension us.
Please help us to look for the light when we're sad, when we're scared, when we're lonely, when we're tempted to think that the darkness of sin is better than what you offer. We love you. Amen.
Say: Let's go and look at Christmas lights together as a reminder that Jesus really is the light of the whole world.
Check Out the Following Locations Around Columbia
The Crossing Magic Tree


Lit daily from 5-10 p.m. starting Friday, November 26. For more details and information about activities at the Magic Tree visit our Christmas Page.


Follow a Christmas Light Map


Tour other Christmas lights around town from the comfort of your car with this map of Columbia, Missouri.

Christmas Lights at Veterans United

Veterans United will be hosting a drive-thru Christmas display at their 4700 South Providence Road location in Columbia from 7-10:30 p.m. starting December 7th through 19th.
---
Looking for more Christmas activities to point your family to Jesus?
Join us at our Family Christmas Celebration for an exciting twist on the Christmas story where we get to meet some of God's creatures and celebrate the birth of His son!